Owned by Harvey The Hunter. May only be used if she is involved in the RP you are writing or if you ask my permission.
Information
Edit
Name: Sharlet Free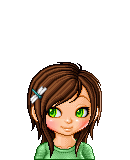 Age: 13
Hometown: London, UK
Sex: Female
Personality: Sweet and kind. Dislikes obeying adults. Polite table manners. A rather arrogant but well-meaning person
Strengths: Cuteness, speed, bow and arrow and animal riding.
Weakness: Dislikes to lose. Bad at hiding.
Current Situation, History and Notes
Edit